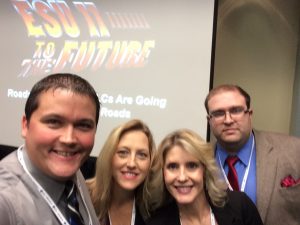 Earlier this December a group of us from ESU 11 had the privilege to present at the AESA (Association of Educational Service Agencies) annual conference in Savannah, Georgia. This was the second time I've presented at AESA so it was nice to make a return at the national level.
Our team presented on ESU 11's implementation of Professional Learning Communities which began in the fall of 2015. Our presentation went great and I'm proud of my colleagues for the outstanding job they did.
One of the most enjoyable parts of preparing for this presentation was drafting the title and description for our session proposal. I'm a huge fan of coming up with something creative and clever to intrigue conference attendees and lure them into our session. Plus, if you can get a chuckle out of the folks who review session proposals it drastically increases your odds of being accepted to present!
The theme of this year's AESA conference was "The Future Depends on Their Future". Naturally, our first inclination was "How can we incorporate Back to the Future into this?" Ergo the title of our session ended up being "Roads…Where Our PLCs Are Going We Don't Need Roads". Then we sprinkled in a handful of other quotes and movie references in the description to bring it all together. Of course our presentation was filled with loads of useful content, but we like to have fun too!
All in all it was a great conference. We had a chance to meet and visit with folks from other service agencies across the country. It's great to hear the work others are doing and learn how we can improve our own organization. The southern cuisine was pretty good too!