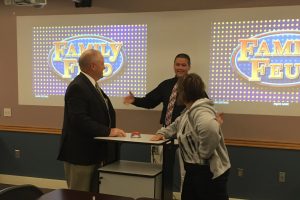 I've always been a big fan of game shows. I grew up watching the Price is Right, Press Your Luck, and a number of others. This fall I had the opportunity to lead a team building activity for our all staff opening day. I decided I wanted to channel my inner Richard Dawson and host a Family Feud style game show for our staff.
I searched the ends of the internet to find a customizable Family Feud game. There are a number of free PowerPoint templates available, but by far the best one I found was from a site called Rusnak Creative. This site has a slew of PowerPoint templates for a variety of game shows, and they are all top notch. Many of these are fully editable, and come complete with instructions, sound effects, the whole shebang!
I knew that I wanted my Family Feud to be education related, so I found this site that had a full listing of questions from four different seasons of the show. I parsed through them looking for any that had keywords such as teacher, student, class, or school. I was able to build a great activity that got everyone up on their feet, thinking, laughing, and enjoying our time together.
I've been able to get a lot of mileage out of this game show concept. I've already repeated my Family Feud two more times since then, and it's always a hit! Plus, it's really fun to be a game show host for half an hour.